Holga Week 2019 just passed. I did take some photos on my original (and favorite) 120N , but I have been unsuccessfully fighting a month-long sinus headache and didn't enjoy shooting or developing any of what I took. As I write this with my apparently-everlasting sinus headache, I am kinda glad I wasted a few color rolls through the Holga. I've never been too impressed with color photos in it anyway.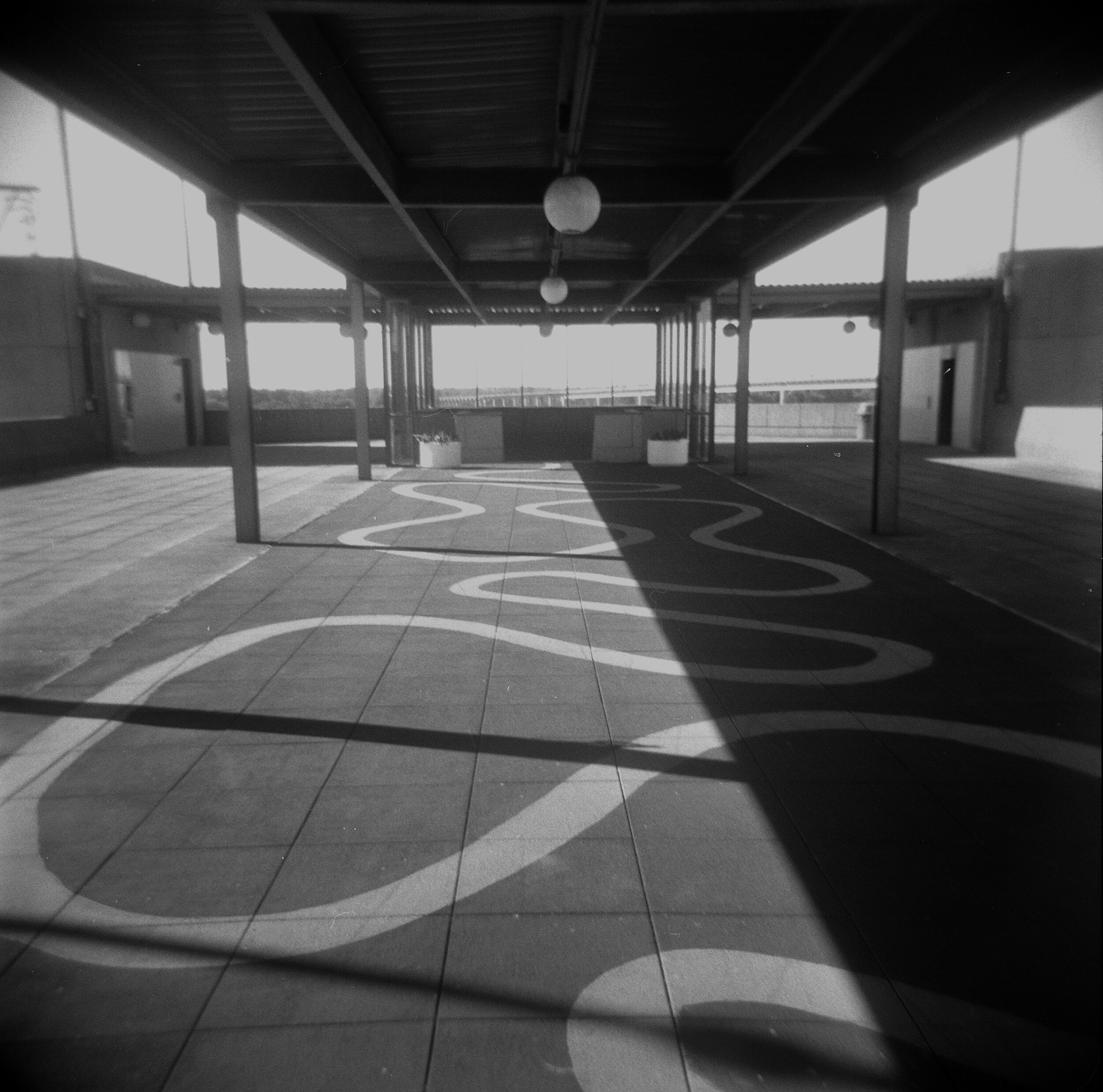 Since I felt well enough Saturday evening to not want death to come quickly, I drove downtown to Mud Island River Park to practice double-exposures with the Holga. My idea was to get a few shots of the Pyramid, the M Bridge, and the MEMPHIS sign on Mud Island in some double-exposures. Logistically, this was a colossally stupid idea. Let me explain. The first shot I wanted was one of the M Bridge and the MEMPHIS sign overlaid. To do this, I had to take the single photo of the bridge from the Visitor's center on Bass Pro drive, then refrain from taking any other photos while I climbed up to the elevated walkway for Mud Island, then walk all the way to the end of the island, wait for all the other people to stop taking the cliche posed pictures in front of the sign, and snap a shot perfectly framed in a camera that eschews traditional ideas about precision manufacturing in favor of "meh, it's close enough for peasants" mass plastic production. Yeah, it wasn't happening. So I did it in reverse. I did all the walking, semi-composed the MEMPHIS sign, and then walked the hell back to the bridge to take the last photo.
I kid you not, I couldn't have planned this if I tried. It was sheer dumb luck, but I'll take any I can get. Luckily, I managed to get a shot or two on and around the Island in the short time I was there.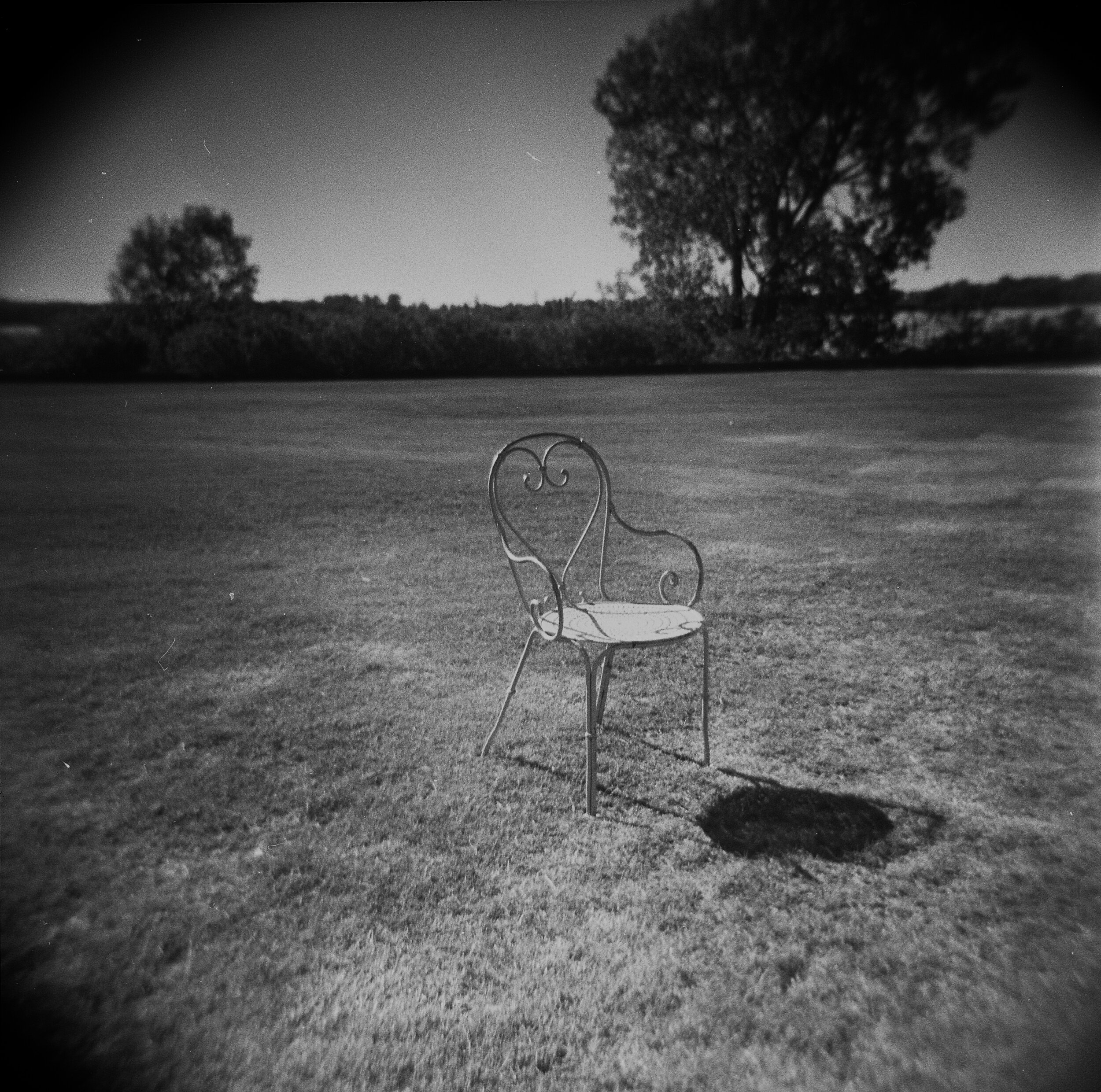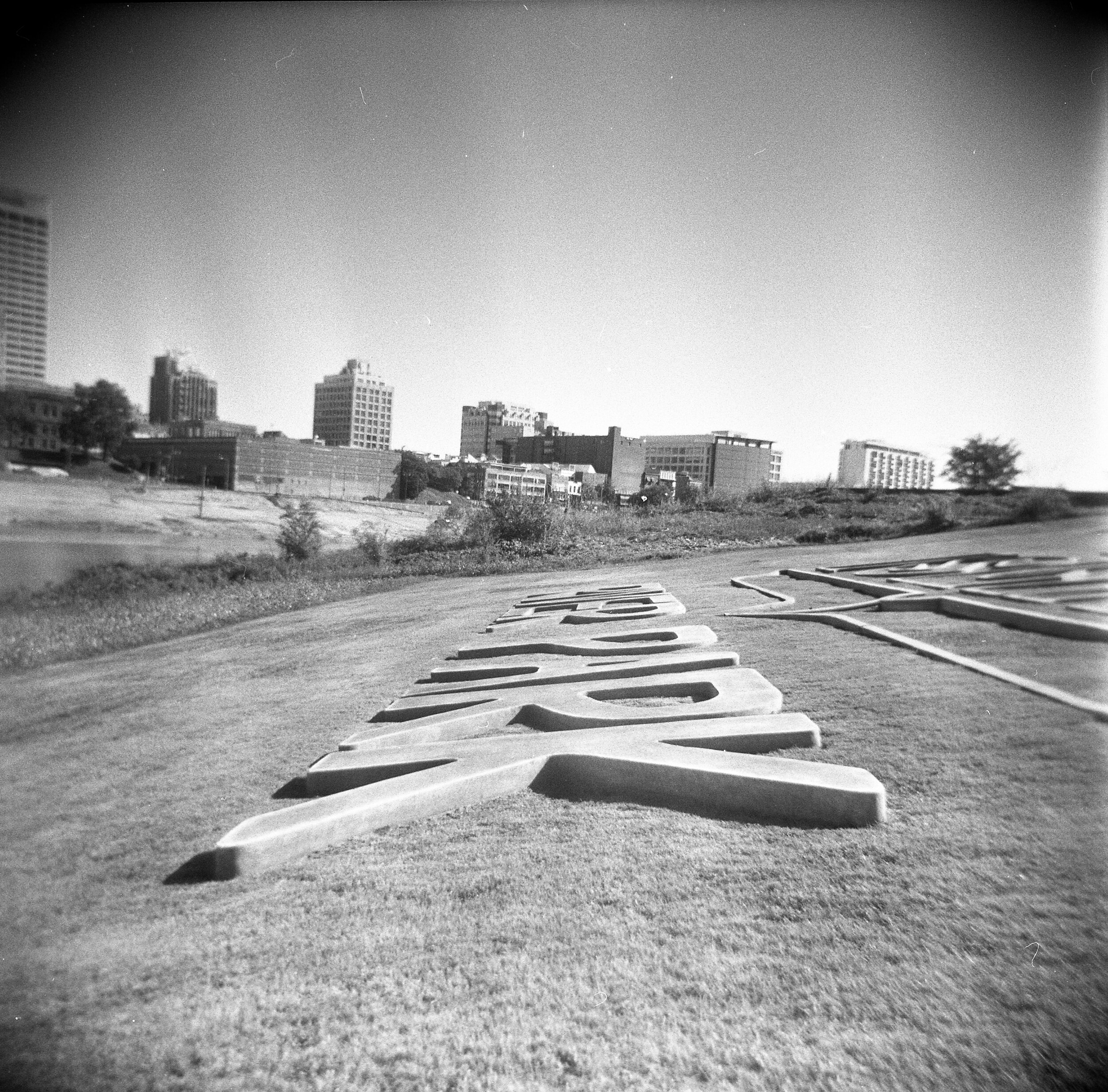 The one above has some wavy contrast in it due to my expensive, custom-made 120 Film scanner tray breaking while I cleaned it.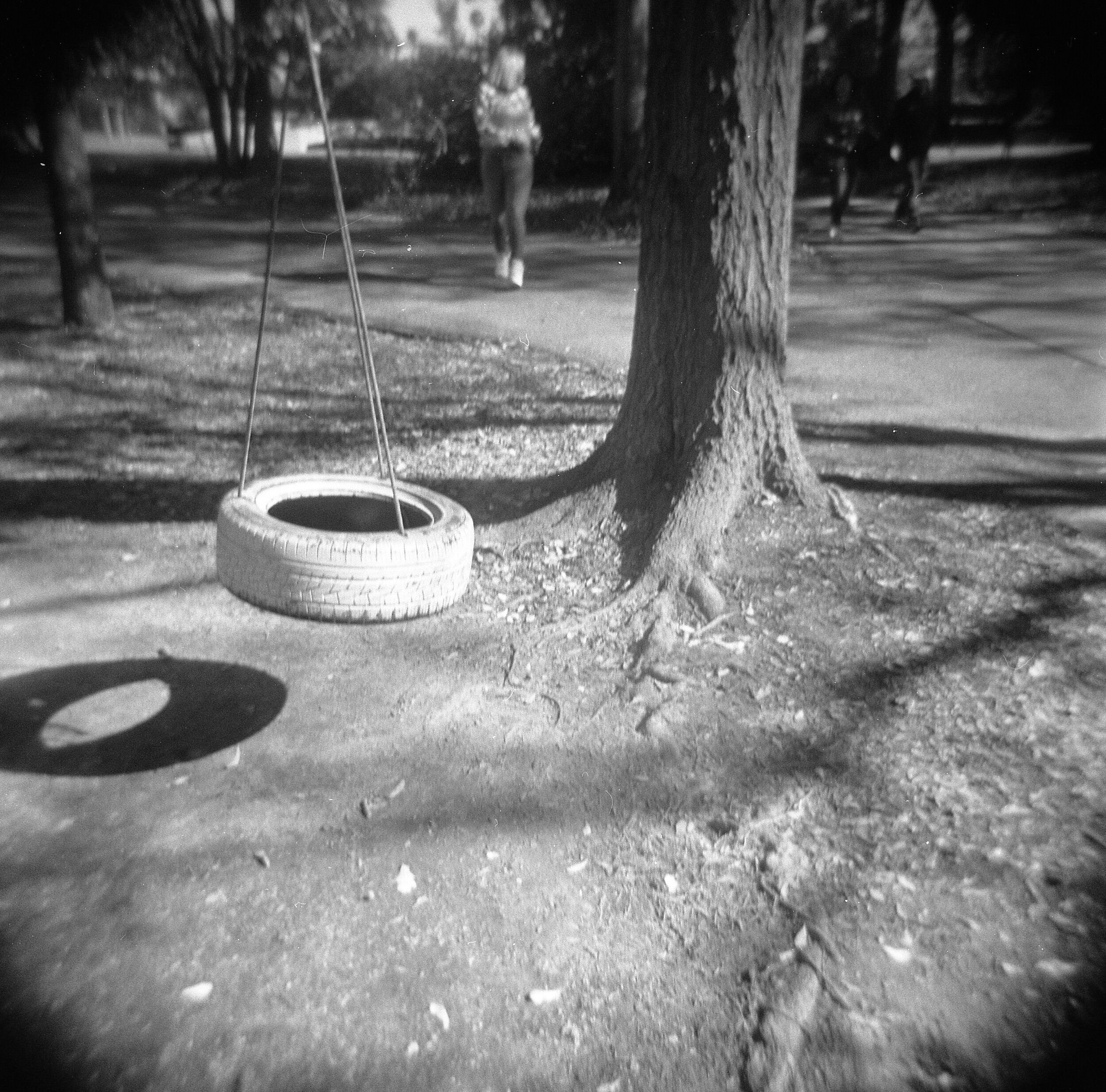 I love the aesthetic of my Holga. The dark vignetting and the extreme distortion outside center is just cool. I know some would consider these failed photos, I consider them little pieces of art.
Actually, I took a double-exposure of my car in the AutoZone parking garage last week and forgot about it. I almost forgot I took it until I developed the roll.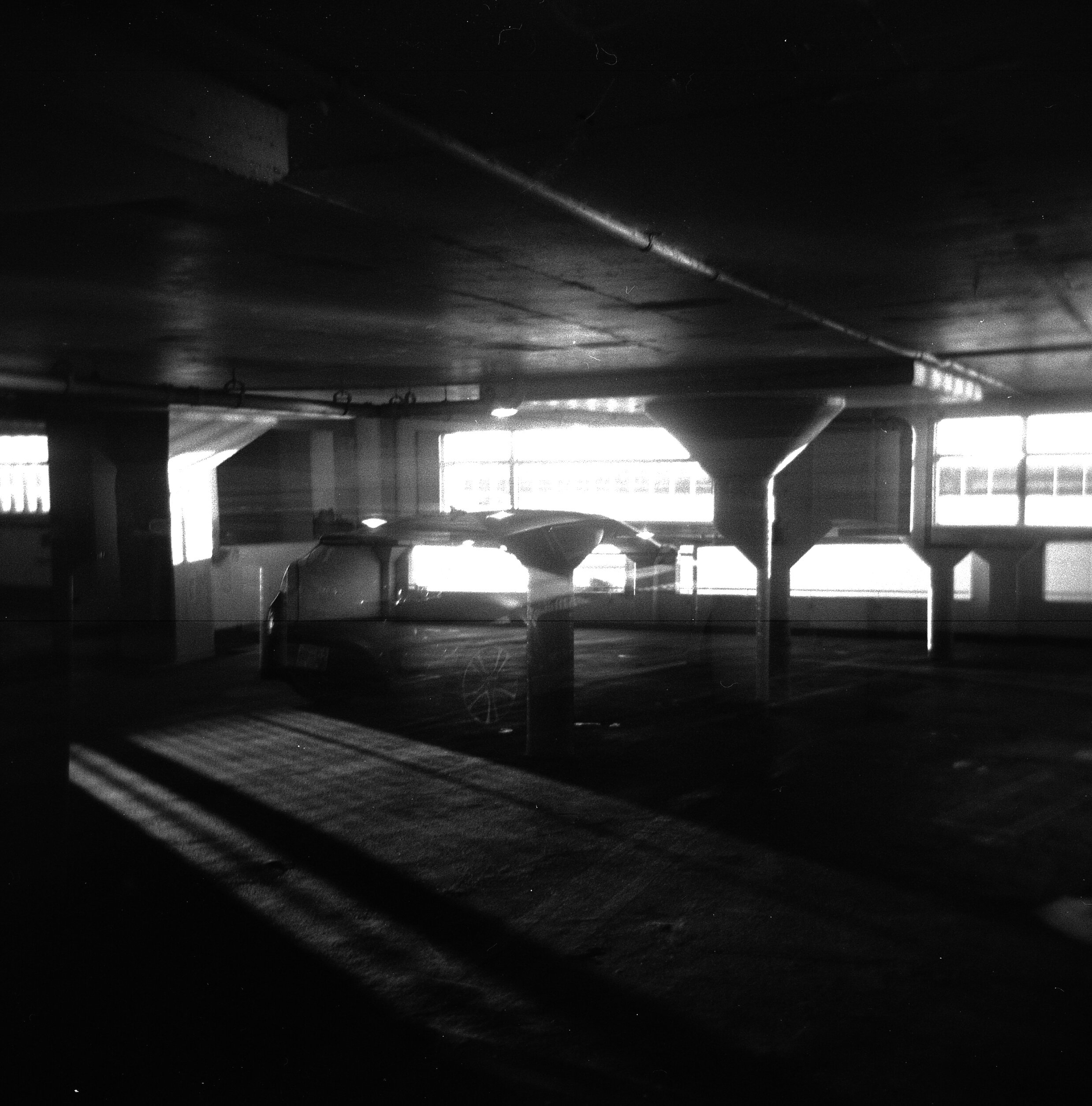 This last double-x was the first I took upon arrival downtown. I had to burn the bridge in Affinity Photo a little because 400 speed film in bright sun in a Holga tends to blow the highlights. I'll probably tune this one a little better in a second pass, but it's worth sharing just because I like sharing my photos.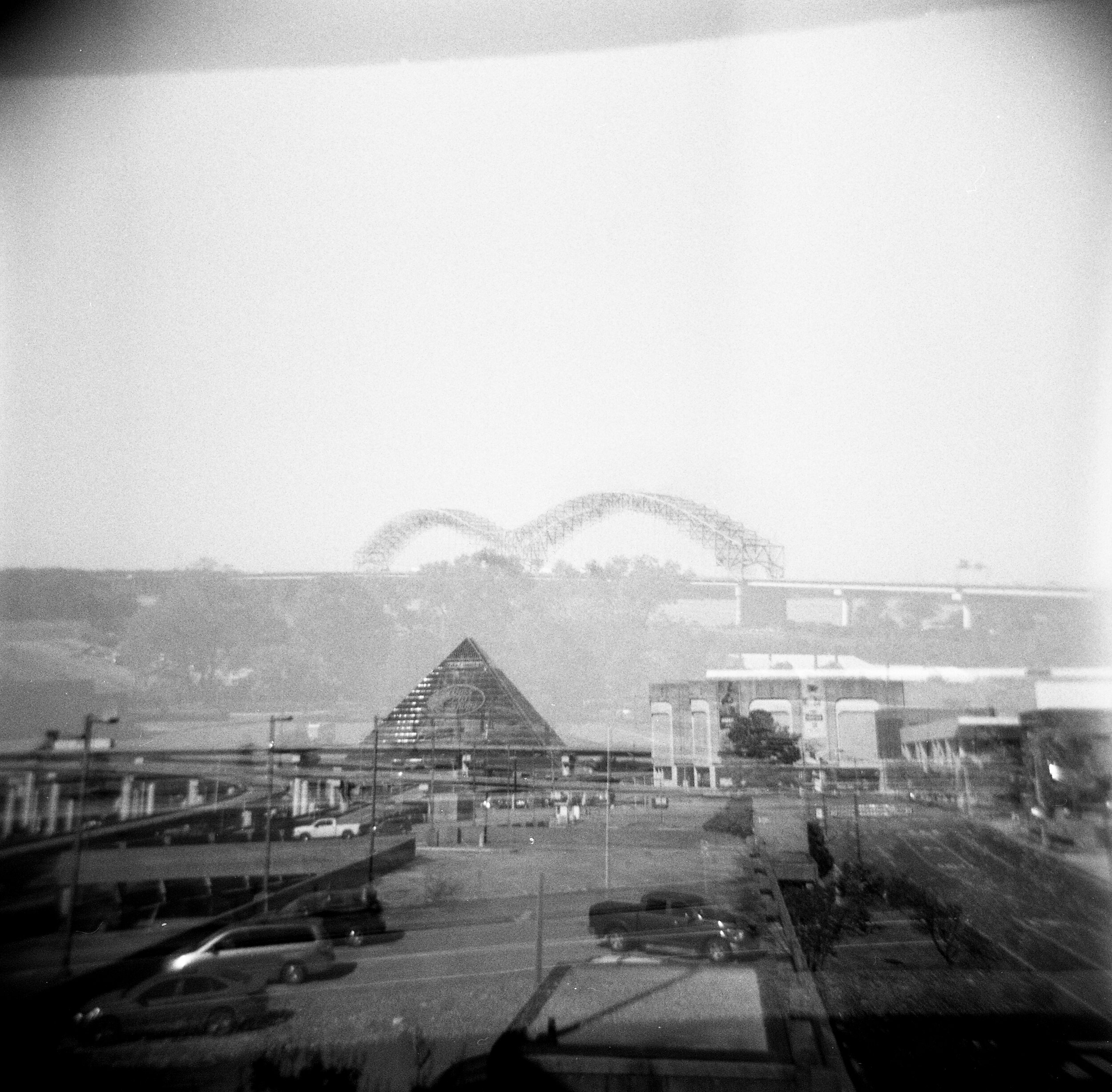 Shooting with the Holga is very rewarding even if it's a tad unpredictable. It has one setting: point, and one action: shoot. The ability to do multiple exposures on a single frame is arguably one of it's cooler features and makes it a joy to take out on a photo walk. It does, however, require a little planning or at least a general idea of what you intend to do with it. Simply taking it out for an aimless stroll might set you back a bit by wasting a roll or two on garbage shots. Of the 36 shots I took, what you see here is all that I felt like using, and that was with 24 hours from scan to publish to give me time to be certain.